First Timer's Guide to Scallop Season
If you're a first-time scalloper, get ready to embark on a memorable underwater treasure hunt. From mid-August to late September, the crystal-clear waters of Cape San Blas come alive with these delectable morsels, offering a unique and exhilarating experience for all. Scallop season in Cape San Blas offers a unique opportunity to create cherished memories while enjoying the beauty of the Gulf's underwater world.
Whether you're a beginner or an experienced scalloper, the excitement of the hunt, the thrill of discovery, and the promise of a delectable meal await you in the crystal-clear waters. Use this guide to start planning your trip to Cape San Blas for scallop season! 
The Spirited Scallop Search
Scalloping isn't just a mere activity; it's an underwater treasure hunt that appeals to adventurers of all ages. Scalloping season can run from July to September but the best time is Mid-August to Late September. Imagine snorkeling through the calm, turquoise waters, discovering vibrant marine life and then spotting those sought-after scallops nestled in the seagrass. The thrill of the hunt, the delight of discovery, and the promise of a delicious feast make scalloping an experience unlike any other. Whether you're a seasoned diver or a novice snorkeler, scalloping in Cape San Blas promises a magical and rewarding adventure.
Best Places for Scallop Hunting:
St. Joseph Bay: This scenic bay is a scallop paradise, boasting shallow and clear waters, perfect for beginners. The grassy flats and sandy bottoms create an ideal environment for scallops to flourish. Explore the bay's eastern side for the best chances of a successful scalloping expedition.
Indian Pass Lagoon: Located just a stone's throw away from Cape San Blas, this hidden gem is a haven for scallopers. The shallow lagoon provides ample opportunities to find these delightful creatures amidst the seagrass beds.
Port St. Joe Bay: The rich seagrass beds of Port St. Joe Bay offer another fantastic scalloping haven. Venture towards the center of the bay for a scalloping experience that combines underwater excitement with breathtaking scenery.
Tips for Your Scallop Adventure:
Safety First: Before you dive in, ensure you have the right safety gear. Snorkel masks, fins, a mesh bag for collecting scallops, sunscreen, and a hat are essential. Life vests are recommended, especially for inexperienced swimmers.
Know the Regulations: Familiarize yourself with local scalloping regulations. There are daily limits per person and vessel, and certain size restrictions may apply. You will also need your Florida Fishing License.
Time it Right: Scalloping is best during the low tide, as it offers clearer visibility and easier access to the shallow areas where scallops reside. Plan your excursion accordingly.
Respect the Environment: While scalloping, remember that you're a guest in their natural habitat. Avoid stepping on seagrass beds and be mindful of other marine life.
Local Tours and Services
If you're new to scalloping or prefer expert guidance, local tours and services in Cape San Blas offer an array of options:
Cape San Blas Scalloping Tours: These guided tours provide equipment, local insights, and a knowledgeable captain to ensure a successful scalloping adventure. Check out Gypsy Blue Tours for your next scalloping tour! 
Rental Gear Shops: Many local shops offer equipment rentals for those who prefer a self-guided scalloping experience. They can provide you with the right gear and valuable advice to make your adventure safe and enjoyable. Scallop Cove is one of these great stores that can get you outfitted!
Get Ready to Hunt and Book Your Cape San Blas Vacation Rental Today!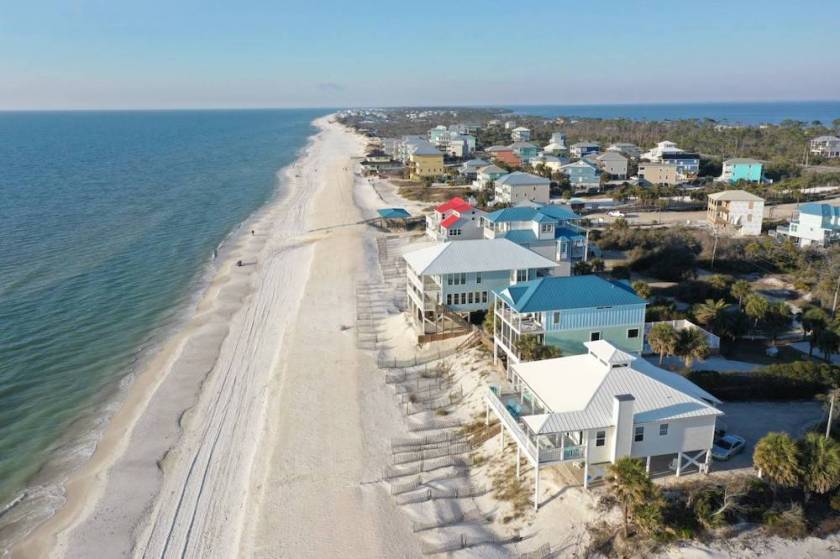 Be Our Guest Vacation Homes is your connection to a peaceful getaway along the Forgotten Coast. Secure your stay along the Gulf or Bay and enjoy the wonderful beaches and enjoy some of the best scalloping in the nation. Book your Cape San Blas vacation rental today!